This post describes the initiative skills+ that you will want to develop for your cards once you get them to purple+.  (Note that developing the + skills before this point will result in the loss of those skills when the card evolves to purple, so most people don't do it until then.)How do you develop these skills?
Once a card reaches Elite status (i.e.: it has a + in its name) it will have the + version of the initiative skill, for example, Blizzard+ rather than Blizzard.
To increase the + version of an initiative skill you must Fuse cards with the same + version of the skill into the target card.  When you do this there is a chance that the skill level will increase.  The chance is based on the number and quality of the cards that you are Fusing: three green+ cards will give 100% chance, as will two blue+ cards.  You can choose to risk less than a 100% chance but I wouldn't recommend it!
Note that the game sees Blizzard and Blizzard+ as two completely different skills so you can't raise your Blizzard+ skill by Fusing cards with the Blizzard skill to your target card.
How do I get these "food" cards with the right + skill?
Typically this involves farming green boss cards from Normal dungeons, levelling them to 30 then evolving them to green+ with a set of
Rare Weapons
.  Some skills, notably Cannon Lady's and Elder Sister's, can only be found on blue cards.
The table below shows example food cards for each + skill.
Sounds like hard work!  Why bother?
Because developing the skill from 1/6 to 6/6 makes quite a big difference to the damage output or healing abilities of your cards.  Main healers, in particular, need their skills at 6/6 to avoid a very small heal every third turn, often leading directly to the death of your main tank.
You can see from the table below exactly what a difference it makes for each + skill.  
(If the image is only partly displayed on your phone or tablet, please click or tap on it to go to the full version.)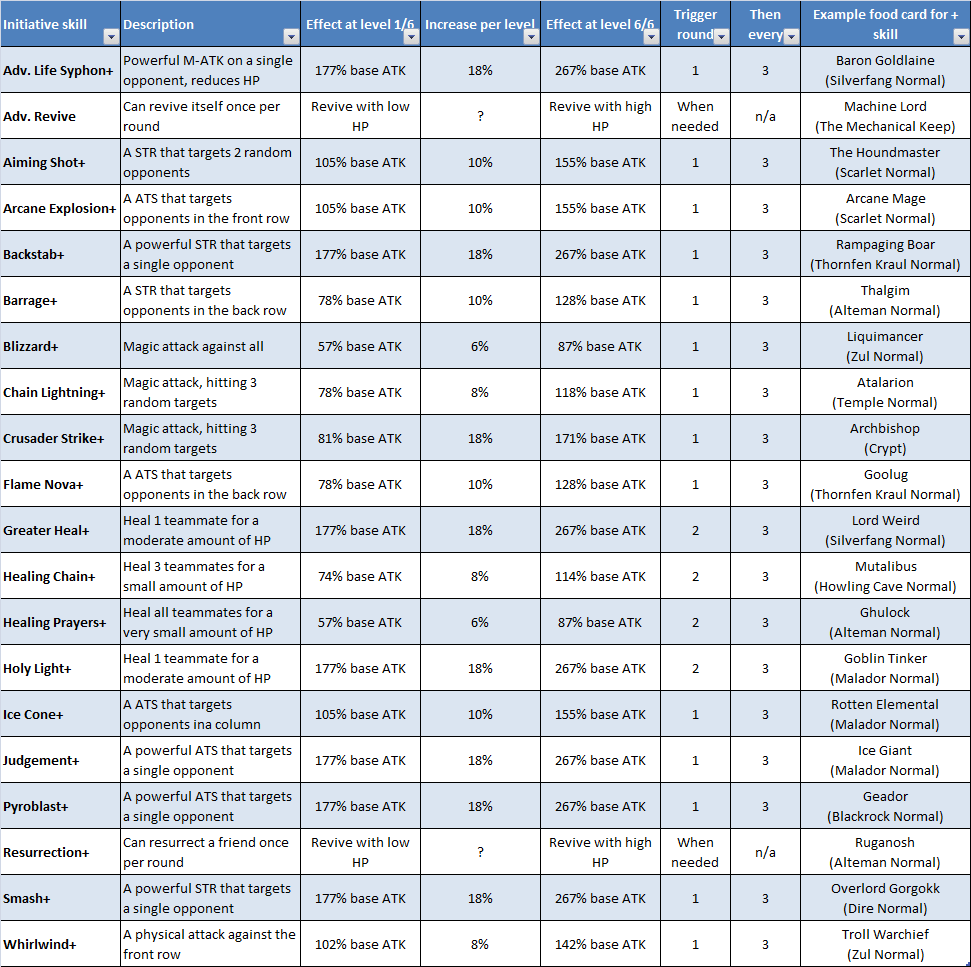 Last edited by EpicAndy on Tue Mar 04, 2014 6:28 am; edited 2 times in total
Admin




Posts

: 150


Join date

: 2013-12-16



Good stuff sir! I just figured this out a couple days ago but haven't gotten as far as to farm and evolve! But that chart showing the increases I sure will now! Lol



Posts

: 4


Join date

: 2014-01-02



we are missing initial skills of Comrade, FDH and 4 shadows



Posts

: 7


Join date

: 2013-12-29



Feral Druid Helper:
Adv. Light Asylum
(Dark Dungeons / Jaokh)

Comrade:
Flame nova+ (see above)

Allure:
Adv.Bleed= Adv. Botanist
(Energizar / Botanist)

Envy:
Adv.Restoration = Mentor Jeanine
(Psychic)

Lust
Adv.Behead = Bloodguard Kue
(Broken Fortress / Blood Guard roar)

Shame
Adv.Polymorph = Evermancer
(The Energy Fortress / Psychic Territory)

Winter
Adv. Serpent Sting
(Energizar / Rhiz)

Old Lover
Adv. Divine Storm
(Blood Abyss / The Maker)

Apprentice
Shield Wall
(Dark Crag / Molten Giant)

Admin




Posts

: 73


Join date

: 2013-12-16





Click the link ⬇️

Wikia  - Where to find the cards

Admin




Posts

: 73


Join date

: 2013-12-16





Similar topics
---
Permissions in this forum:
You
cannot
reply to topics in this forum