Something has changed in 4.1 but it is the same system.
1 Members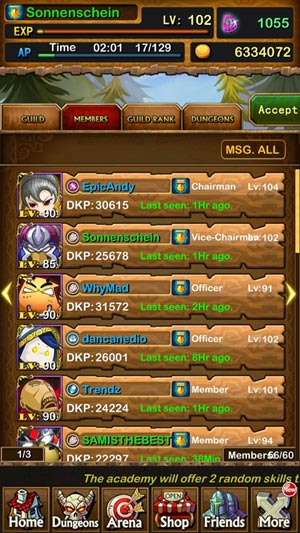 Here you can see all the members of our guild. The reached Lvl and the total DKP points.
DKP (Also known as Dungeon Kill Points)
You get this in all dungeons. For every 5 AP spent on a dungeon you earn 1 DKP.
Normal +1
Elite +2
Heroic + 3
Events
Golden Dragon Welp/ Heroic + 3
Golden Dragon Welp/ Elite + 2
Golden Dragon Welp/ Normal + 1
Pumpkin Patch / Heroic + 10
Pumpkin Patch / Elite + 5
Pumpkin Patch / Normal + 3
World Boss
Order of Light elite + 4
Backstab Squad elite + 4
Kunitari on Fire + 4
Levadune's Lair
Guild Dungeons / you earn DKP by completing a dungeon or by reopen
You need the DKP to bid in the auction on the equipment
The here displayed personally reached DKP always remains even if you have bid in the auction.
The current DKP after a bid can you see in the auction tab.
(described further below)
MSG. ALL
A message to all costs each time 20 runes.
Accept
Chairman, Vice-Charman and Officer can accept new members.
2 Guild Rank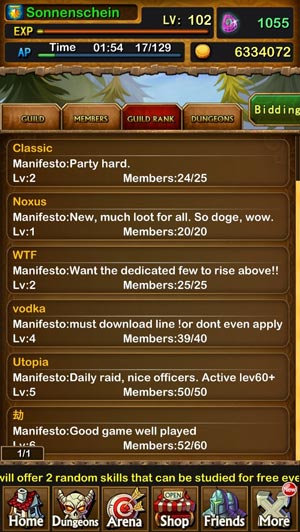 Under Guild Rank you see all guilds that have currently made ​​their Guilde public and are looking for new members.
If you want to know more click on
Bidding
and then click the
?you get here the trophies for "Donate more than xx in a day3  Dungeons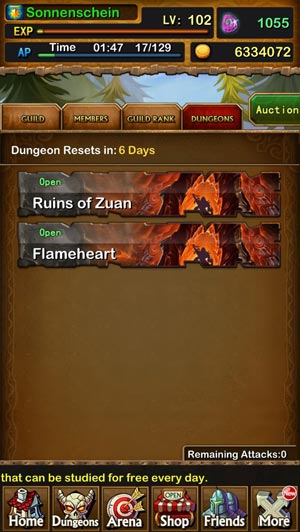 How to play follow the link:
http://epic-heroes.forumotion.com/t43-1-introduction-and-overview
Purple items:
Lvl 75
Life Helm - Zuan Ruins base
Life Armor - Zuan Ruins upper
Life Ring - Heart of Fire lower
Life Mantle - Heart of Fire base
Life Cloak - Heart of Fire  upper
(it's for to sell it = JB, gold and 1 senior pcs)
Lvl 80
Flame Weapon pcs - Alter Area lower
Flame Armor pcs - Alter Area upper
Flame Helmet pcs - Alter Hall lower
Flame Ring pcs - Alter Hall upper
Flame Mantle pcs - Soul Grave lower
Flame Cloak pcs - Soul Grave middle
Flame Weapon pcs -Soul Grave upper
Lvl 90
Dark Elf Helmet pcs - Hurricane Castle lower
Dark Elf Pauldron pcs - Hurricane Castle upper
Only if you've played in the Dungeons it is possible to bid in the auction.Auction (Bid on Equipment)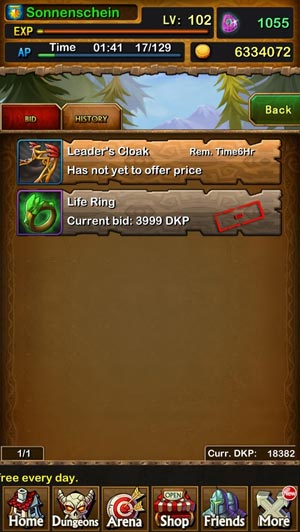 All random equipment which drops during and after clearing the dungeons will be listed here.
Attention! You see only the equipment from your played Dungeons. Do you play only in Zuhan you can't bid on the Equipment from Flameheart.
How to bid?
Each piece of equipment is 24 hours in the Auction. You can see it on the timer next to the item.
If you click on the item you can submit your bid. You need your earned DKP. You can see it in the lower right corner. (Curr. DKP)
After your bid the game says 'You won' (this is a bad translation). It should rather be called 'bid submitted'.
Nobody can see your bid!!
Everyone has 24 hours time to submit. If you win, you get an in game message and you see it in the message board.
Reopen Dungeons
Reset time: Sunday, first round does not take runes and it open by the system automatically.
Any guild member who has purchased more than 2000 Runes or is >Lvl 90 can reopen a Dungeons. But the Chairman has to make you Vice-Chairman. Ask in chat for it.
The Chairman / Vice-chairman reopened the dungeons at the moment, so that all get a chance. But remember it cost his runes and can not be required.
4 Guild notice
Interesting information for the members added by the Chairman or Vice Chairman
5 Message board
Any activity are shown here.
Who won in the auction, who has joined, who has left and so on
6  Contribute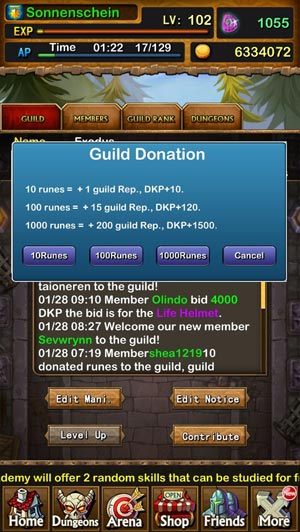 To be able to increase a personal DKP and accelerate the lvl of the guild.
You can donate runes 24 hours after admission and can only be donated once a day.
Runes absorbed by the system, not to the president of the pocket.
see also this awesome guide
http://epicheroesgame.wikia.com/wiki/Category:Guild
Last edited by Sonnenschein on Tue May 26, 2015 11:00 am; edited 3 times in total
Admin




Posts

: 73


Join date

: 2013-12-16



What is new in 4.1?

It has been added:

Chat
3 options: World chat, Guild Chat, Private Chat

Guild Shop
Guild Members can purchase items by consuming DKPs. incl. the Skill Fruit
Guild President and VP can level up Guild Shop. The more higher level, the more items to purchase.
The purchase limit will be refreshed at 4:00am /pst every day.

Guild Tech1)
President can lvl up:
Earn extra EXP when upgrading cards
Raise the limit of Guild Member amount
Earn extra Reputation in Arena
Improve Attack Buff in Guild Dungeons
Improve HP Buff in Guild Dungeons
Increase the times of receiving and sending AP in Friends list.

Guild Dungeons
It only costs 10 runes to reset Guild Dungeon.
Open new Guild Dungeon: Hurricane Castle (Open when Guild reaches Lv.11)
** After clearing Hurricane Castle, players who made more than 500K will receive 5 Justice Badges.
** After clearing Hurricane Castle, players at top 10 will receive an extra Lv.90 purple equipment piece and an extra Justice Badge.

Solo Dungeons
Here you can raid alone and its easier.
It drops Guild Gift. The more difficult the dungeon the more generous drops!
Gem pcs
50 Runes
50,000 Coins
Skill Refresh Coupon
Free Raffle Ticket
Lvl75 Purple Equipment pcs
Lvl80 Purple Equipment pcs
have a chance to receive Skill Fruit
Admin




Posts

: 73


Join date

: 2013-12-16





Similar topics
---
Permissions in this forum:
You
cannot
reply to topics in this forum